Introduction
Ah! Welcome to reality.
I've got many domain names and I always receive many emails (rarely snail mail letters) which tell me that either I'm about to lose my email or that someone else got my domain and they want to make sure that I know it's going to be owned by someone else.
Now that you have your own Niche Website and your own Domain Name you're also going to receive such emails. At least, people who are trying to sell you a website (I got many calls like that too!) are trying to get my business, but domain name scams aren't a normal business. Those guys are thieves.
Email Origin
Unless the email is from your domain name provider, the letter is just a way to get some money from you without actually having anything to do with your domain expiration or some other problem with your domain name ownership.
Many of these letters attempt to make their fee legitimate by offering a form of cheap service, other than your domain name registration service. Actually, I've been receiving many of those emails on my Yahoo! account for 2 or 3 years now. These most often say that it is not a renewal, but actually a service to better the SEO (Search Engine Optimization) of your website. You definitely do not need them because you are creating a perfect affiliate website following my recommendation on this very website, right?
Many just ask you to send them some money and it will be non-refundable (since a scammer is not like going to ever give you your money back!)
Email Content
The content of the email should be looking pretty good. Just the way you are used to when getting emails from your provider. If it looks completely different, then at least you know that it's probably not the right source and you certainly can ignore the email. Replying is most certainly a total waste (the scammers are probably not going to read your reply.)
There are several ways to evaluate the email. Especially, weird sentences, bad grammar, spelling errors, broken images or tables. All are signs that the email is probably from a scammer trying to get you to pay him some given amount (those I receive these days ask for $67 when domain renewals for a .com are usually around $20 or less! So this is definitely not my domain renewal…)
Note that in some cases, what the scammers want you to do is click on a link for purposes other than charging you money directly. The destination website may be filled with viruses or has some form of XSS attack mechanism. XSS stands for Cross Site Scripting. This is a way for the scammer to run code on your computer and, as a result, retrieve any information you enter on that website or even anywhere if they can take over the whole computer without your knowledge. So the website may look perfectly legitimate, but, in the end, you lose a lot of your information to the scammer.
Note that many websites are marked as dangerous by all the major web browsers. So you are not at a very high risk for older websites, only web browsers do not know about newly hacked websites for a while (it may take days), so you do want to watch out and not go to what looks like dodgy websites!
Final Notice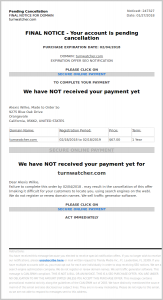 I wanted to specifically talk about the Final Notice emails I get these days because I get this one all the time.
I have a picture of the notice. Since I still receive many copies of them, I thought it would be a good idea to place it here. As you will see the bottom of the page has a small notice about SEO and not
So it's a "final notice" (only I receive them over and over…) about the domain because they're not going to offer their great SEO services after that final notice… legally, it's really on the edge but using spam emails really shows low business practices, especially to offer an Internet service.
As mentioned below (Price), this letter has a price that has nothing to do with the renewal fee for a standard .com. But just like with any contract, you should read the fine print before signing.
Price
You should right away know that the email or letter is a scam because of the asking price. It is pretty much never the correct price. Whenever you purchase your domain name, your registrar is going to tell you how much it will cost you to renew it. If you get an email or a letter that give you a completely different price, then you know it's suspicious.
For example, I often receive emails with a price of $67 to renew my .com domain names. These renewals are under $20 at my registrar. So that's easy to know that it has nothing to do with my domain name registration.
Some domains are really expensive to renew. These are called premium domains. Note that there are two types of premium domains: normal domains that are for sale for a large amount of money and domains that are always expensive, to buy and to renew.
Snail Mail
Snail mail letters are sent by Internet Domain Providers in only a very few African countries. At least as far as I know. If you had to use snail mail to purchase your domain name or get a free domain name, then it is very likely that this provider will continue to communicate with you by mail. In all other cases, you will receive emails.
In other words, if you receive a physical paper letter in your mailbox, be very suspicious. At the same time, over the years, I've got a few letters from attorneys that want to protect my brand on the Internet. These are legitimate firms looking to get your business. Watch out, though, attorneys are not usually that cheap! These would be copyright, trademark, and other intellectual property attorneys. Just make sure to discuss their fees ahead of time to not get a big surprise later.
Fake Trademark Protection
I often received emails from China asking me to purchase my domain names ending with .cn and .com.cn and possibly more. Actually, many registrars try to sell you the corresponding .net and .org whenever you purchase a .com, so it's very similar except that they don't tell you it's going to protect your trademark.
I don't get those much anymore, although I received one about two weeks ago. It pretty much only happened with my .com domain names.
Note that it is not automatically a bad idea to have all the possible top-level domain names you can get to protect your brand. But really only large corporations need to do that. Small businesses like a Niche Website only really need one .com and that's it. It becomes really prohibitively expensive to own all the extensions for a domain (thousands of dollars each year to keep them all up to date.)
Fake Top Level Domain Names (TLDs)
Some registrars tried to sell their customers Top Level Domain names that were not authorized by the ICANN organization. The result was the closure of these registrars.
Unfortunately, as a result, the buyers would not be able to use the domain names they purchased. Also some 10 years later, such new Top Level Domain names were added like .club and .rock. Although the 2 in particular that were being sold in 2002 were .brit and .usa and those two are still not allowed.
Advanced Scams
There has been some licensed, but rogue registrars, that would tell customers of other registrars that their domain name was due for renewal. Instead of just a standard renewal, though, the customers would end up transferring their domain name to that rogue registrar.
This is often called Domain Slamming.
ICANN made some changes in 2004 in an attempt to prevent unwanted transfers. Since then, domain names are locked. It gets unlocked only when you initiate a transfer or when they expire.
What do I do then?
Simple. You received that email or letter telling you that there is a problem with your domain name…
1. Test Your Website
First, you can test that your website is still running. If so, the domain is working just fine. To run that test, make sure to enter your domain name by hand in your browser. If it offers you to select an existing entry, make sure you are selecting one with your domain name properly spelled (it should be, but we're doing a verification, so please make sure the spelling is correct!)
2. Go to Your Domain Name Provider
Second, you go to your domain provider and log in your account. Then check the status of your domain here.
3. Check with WHOIS
Most (probably all) domain name resellers have a WHOIS page. Here are a few that you can use:
The WHOIS data comes from the Domain Name Registration and includes your domain status, the date when you registered your domain, your name and address, and a few other parameters.
This is also a good way to see that your domain is still valid.
If you turned on the privacy feature for your domain, though, you won't be able to verify that you still own it with WHOIS. Chances are you do anyway especially because of the newer Domain Name Grace Period Rules of May 2013 allow the owner of a domain name to renew that domain within 30 to 75 days after expiration.
Note there are pretty much always additional fees to renew your domain name after the expiration date. However,  someone else won't be able to grab the name immediately after expiration. The reason for this newer rule is because there were too many complaints going to court for just expired domains that the owners wanted to renew but life… This cost too much (money & time)
There is an example of one of my domain names. As we can see, there is a Creation Date and a Registry Expiry Date. The latter tells you when you need to make your next payment (well, you should do it about 1 month prior the expiration, just to be sure.)
prompt$ whois m2osw.com
 Domain Name: M2OSW.COM
 Registry Domain ID: 97562621_DOMAIN_COM-VRSN
 Registrar WHOIS Server: whois.godaddy.com
 Registrar URL: http://www.godaddy.com
 Updated Date: 2017-01-29T06:06:15Z
 Creation Date: 2003-05-06T06:20:06Z
 Registry Expiry Date: 2021-05-06T06:20:06Z
 Registrar: GoDaddy.com, LLC
 Registrar IANA ID: 146
 Registrar Abuse Contact Email: abuse@godaddy.com
 Registrar Abuse Contact Phone: 480-624-2505
 Domain Status: clientDeleteProhibited https://icann.org/epp#clientDeleteProhibited
 Domain Status: clientRenewProhibited https://icann.org/epp#clientRenewProhibited
 Domain Status: clientTransferProhibited https://icann.org/epp#clientTransferProhibited
 Domain Status: clientUpdateProhibited https://icann.org/epp#clientUpdateProhibited
 Name Server: NS1.M2OSW.COM
 Name Server: NS2.M2OSW.COM
 DNSSEC: unsigned
 URL of the ICANN Whois Inaccuracy Complaint Form: https://www.icann.org/wicf/
>>> Last update of whois database: 2018-02-01T05:45:26Z <<<
Cloaking of Name and Address
In some cases, your name and address since in the WHOIS data can be replaced by a company which in effect cloaks your information. This is called the Privacy Feature.
Some people prefer to keep anonymous on the Internet.
Note, however, that by doing so, you also are anonymous to systems such as the Google Search Engine, which may see that as a negative in their ranking system.
From tests run by different SEO experts with high traffic websites, transferring a domain name and using the Privacy Feature on the new domain once transferred causes a longer than normal gag from Google. In other words, the Google Search Engine sees a change to a domain name from public to private as a stronger negative than just a change of IP address or owner in general.
Also, Matt Cutts mentioned such in one of his videos. You could create one or two websites for stuff other than SEO and those can always use that privacy feature. However, a domain that is expected to strongly be used with search engines should avoid the privacy feature. There was also a question of how many domain names you own and how large the percentage of them use that privacy feature.